Auto-generate SharePoint URLs in Teams Manager's Naming Convention
Enabling Auto-generate SharePoint URL in Naming Convention SharePoint URL / Mailnickname Section in Teams Manager
Introduction:
Enabling the auto-generation of SharePoint URLs in the Naming Convention allows you to establish rules that specify the Team name.

This feature ensures that the Team name is used consistently in SharePoint URL/Mailnickname.

This article will guide you through the process of enabling this feature.

Instructions:
Navigate to the settings of the Teams manager: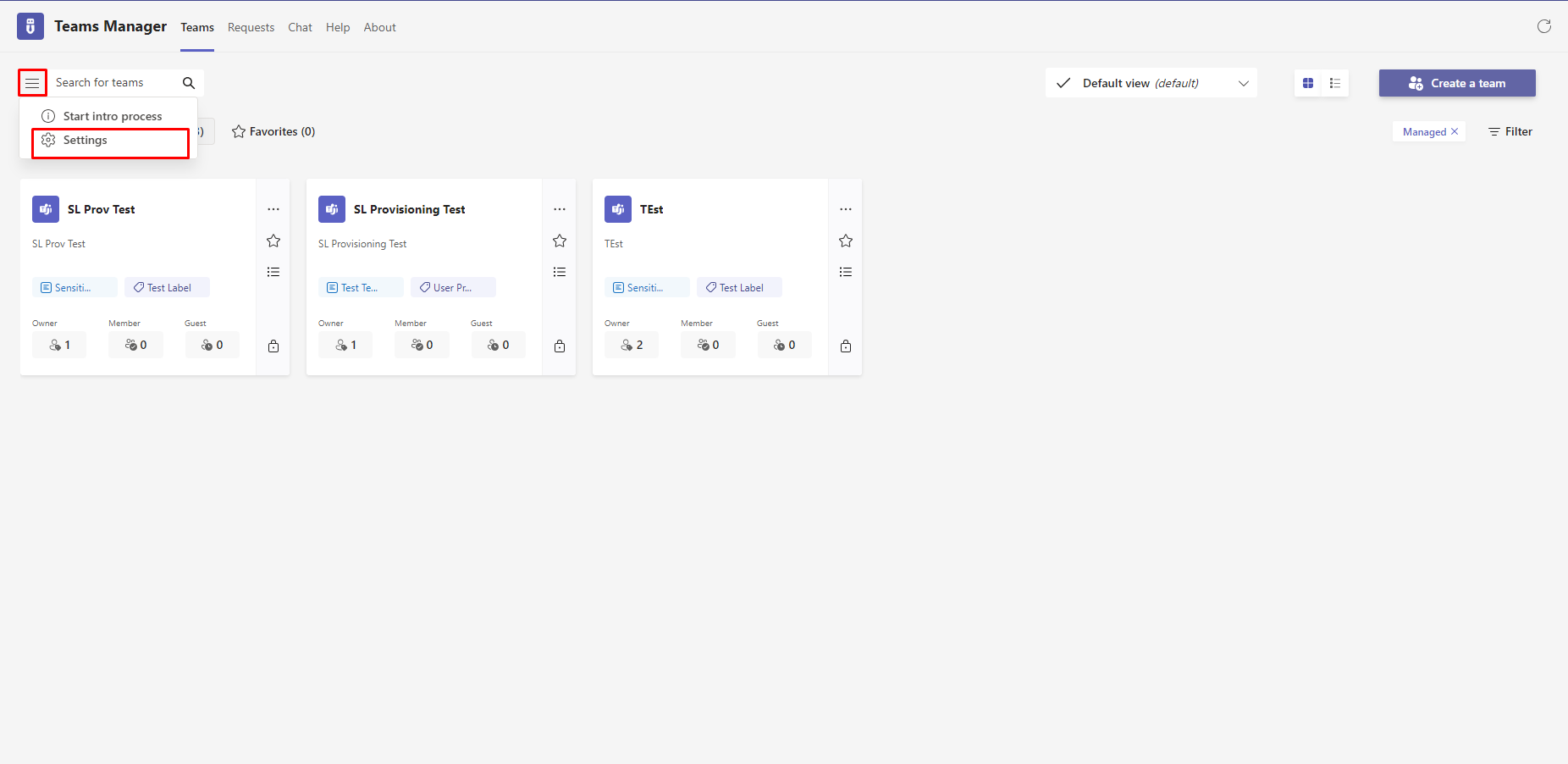 Navigate to Governance/Naming Conventions and press on "+ Create a naming convention" button: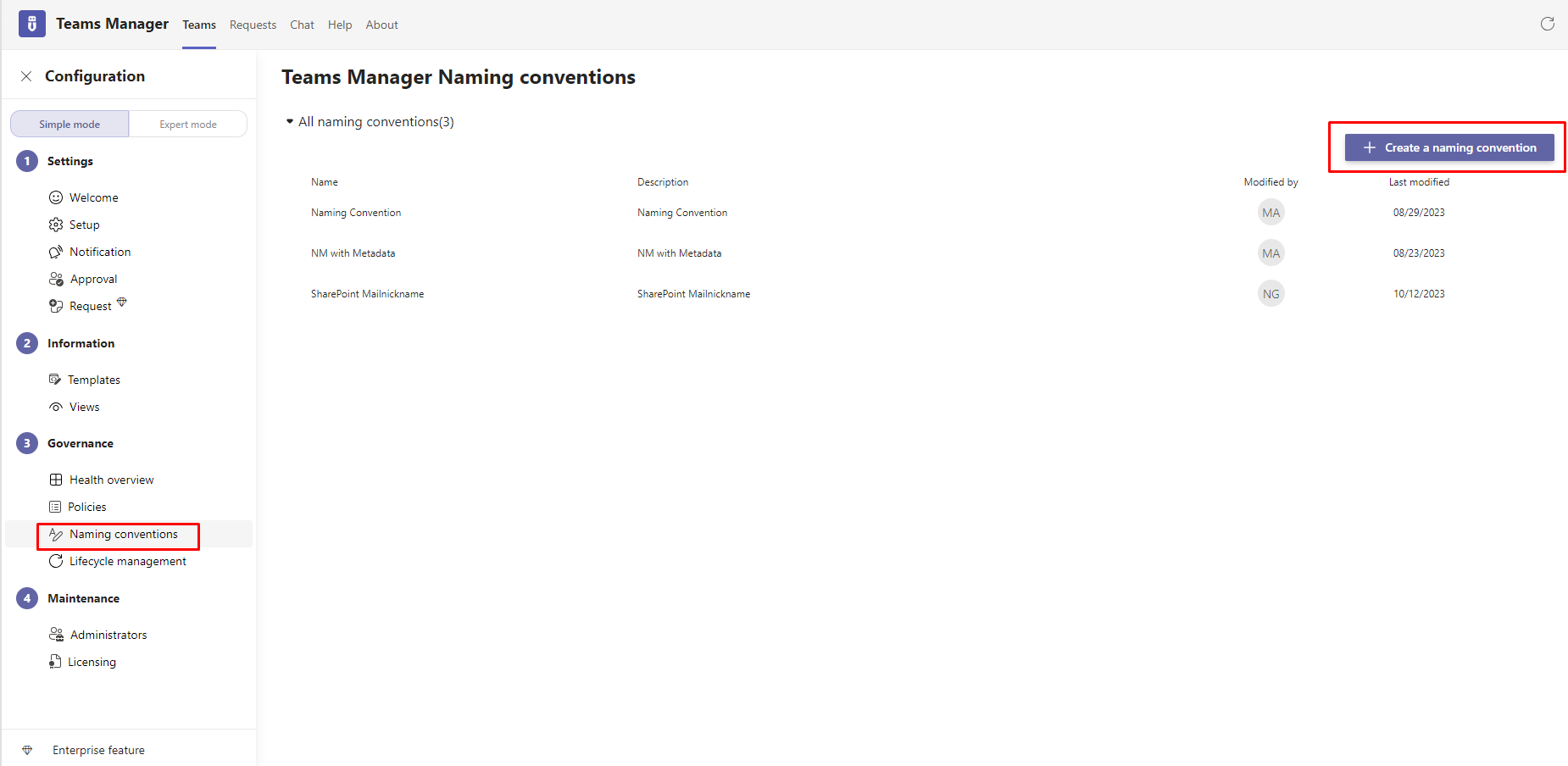 Enable Auto-generate SharePoint URL:
Within the "Naming Conventions" section, find the "SharePoint URL / Mailnickname" area.
Check the checkbox labelled "Enable Auto-Generate SharePoint URL."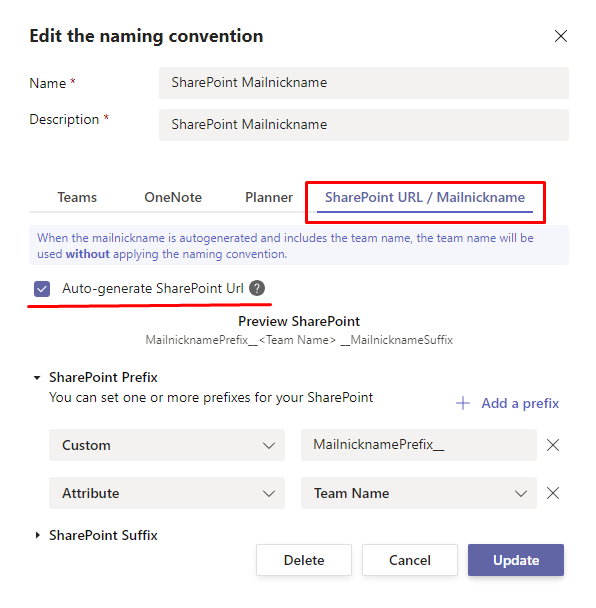 Modify Prefix or Suffix:
To customize the SharePoint URL or Mailnickname, you can add a prefix or Suffix.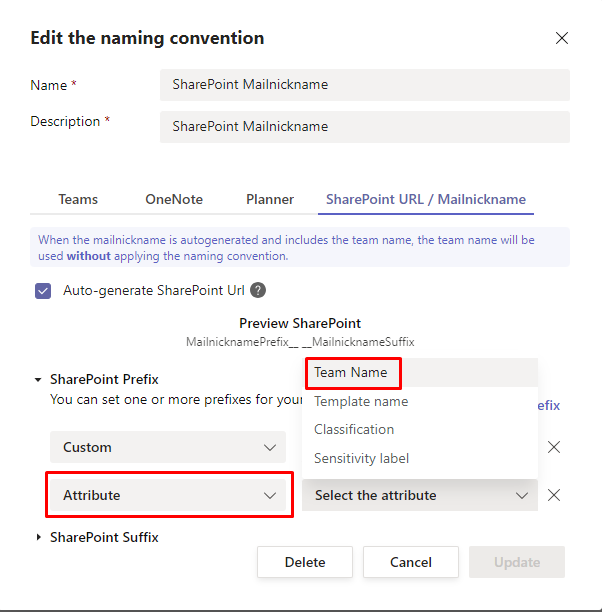 This will be used in conjunction only with the Team name.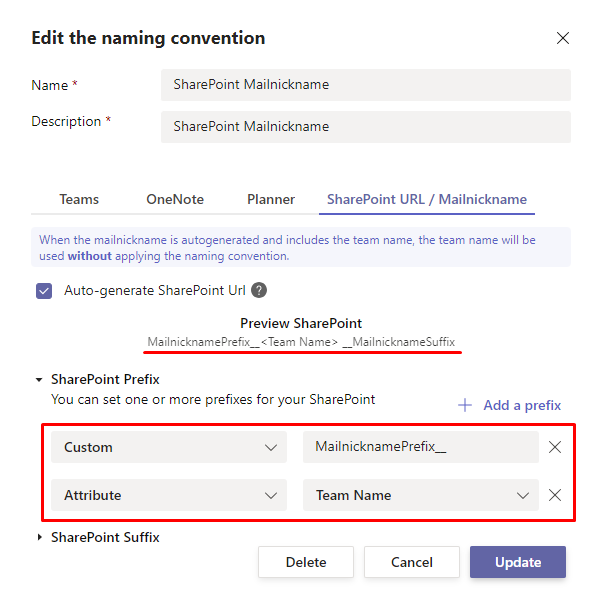 Update Settings:
After adding the desired Prefix or Suffix, click the "Update" button to save your changes.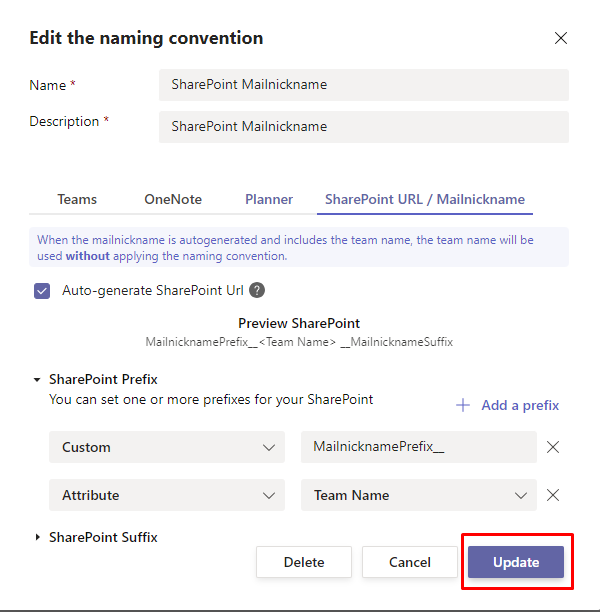 Complete Team Creation:
After enabling Auto-generate SharePoint URLs and assigning this naming convention to the corresponding policy, any new Teams created on the template to which the policy was applied will follow the rules specified.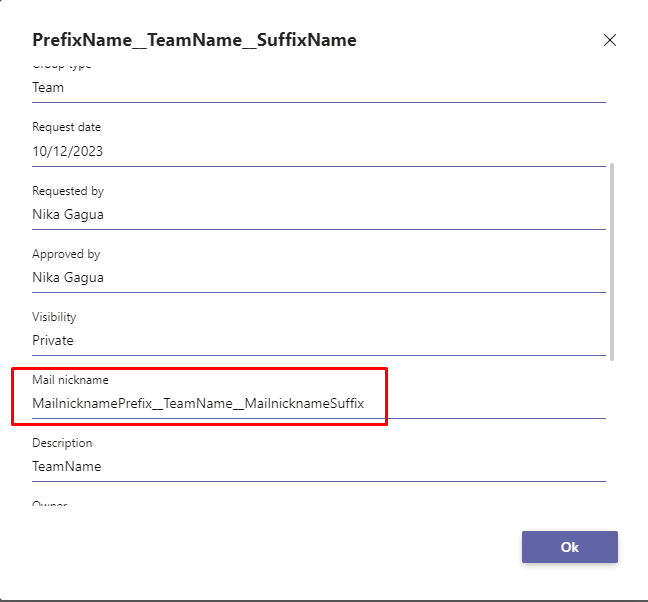 Conclusion:
Enabling the auto-generation of SharePoint URLs in the Naming Convention is crucial for ensuring a consistent and organized naming convention structure for your Teams Manager.

Related Articles

Teams Manager SharePoint Provisioning

Basic Information: Teams Manager can also be used to provision specific SharePoint content. To use this feature, however, you first need the Enterpreis license. Then the authorization must be activated and authorized via the Teams Manager interface ...

Teams Manager Understanding

Here you can find a document of the Teams Manager understanding.

Documentation Teams Manager

Here you can find the documentation of Teams Manager for Microsoft Teams: Documentation Teams Manager​

Teams Manager Release Notes

Here you can find all release notes of Teams Manager releases: Teams Manager Release Notes

Migration from unmanaged teams to managed teams with Unmanaged Bot

Preparation In order to ensure that the managing process runs smoothly, it is advisable to create an extra template and policy package for this process. This then contains only for the managed teams e.g. an extra lifecycle or naming conventions. To ...